Welcome!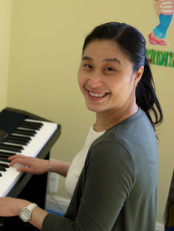 I am your childcare provider.
Do you wish your kid can speak Cantonese and mandarin at age of 3?
Do you wish your kid's music potential can be developed early?
Welcome to Little Sunshine Childcare! My name is Ada, a professional child teacher major in pre-school education. I have associate teacher permit from City College of San Francisco.
I have 17 years experience on child education in China and United States. I am fluent in Cantonese and Mandarin, and good at piano. I love singing, dancing and playing games with kids in music. With me in Little Sunshine Childcare, kids will learn to draw and make handcraft.
Little Sunshine Childcare provides the latest learning and development curriculum for your child's physical, emotional, social and mental growth according to individual characteristics. Your child will form good reading and living habits day by day. Also. I encourage kids to participate in indoor and outdoor activities to enhance development and balance of eyes, hands and muscles.
We are confident to provide healthy daily meals for every child as I am currently studying Child Nutriology in CCSF. I hope every child in Little Sunshine Childcare grows healthily and happily.
---